Workshops
Hormone Yoga Therapy - Uma Yoga - Balancing your hormones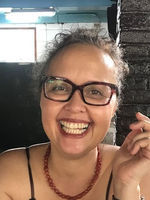 les wordt gegeven door
Jane Saman
Hormone Yoga Therapy - Uma Yoga - Balancing your hormones
Hormone Yoga Therapy – Uma Yoga is a holistic and rejuvenating technique that restores the hormonal production and has a positive effect on the whole endocrine system.  Hormone Yoga Therapy – Uma Yoga is a natural treatment through specific exercises reactivating hormone production. The series of exercises is dynamic with specific breathing technique to massage and reactivate glands.
Hormone Yoga Therapy – Uma Yoga is designed as so that you can built your own practice at home. You will learn a series of physical yoga exercises in combination breathing and visualization. Once you know the sequence it will take about 30 minutes to practice. The exercises are simple and also suitable without previous yoga experience. Depending on the symptoms it is recommended to practice 3 to 4 times a week. Hormone Yoga Therapy brings quick results when practiced on a regular basis. Above all practicing Hormone Yoga Therapy adds joy and wellbeing to one's life.

Hormone Yoga Therapy – Uma Yoga is suitable as a prevention for all women especially those of 35 years and over for it restores the hormone production. This series brings great wellbeing for women in menopause and women who are trying to conceive. It also supports women with symptoms like, depression, migraine, under-/over active thyroid, memory loss, anxiety, tiredness, libido decrease, bloating, exhaustion and osteoporosis.
Hormone Yoga Therapy works upon the organism as a whole (holistic approach), acting on several levels:
1. ON THE PHYSIC LEVEL
Improving the condition of the muscles
Corrects the body posture
more flexibility and improvement of movements
improves the condition of the bones
2. ON THE PHYSIOLOGICAL LEVEL
Reactivating the hormone production and, consequently, eliminating the menopause symptoms (Hormone yoga for women) or the symptoms of diabetes (Hormone yoga for diabetes).
Preventing the illnesses caused by low hormones (hormones of sex glands, thyroid gland, insulin) and harmonizing the work of the organism as a whole.
Bringing back fertility
3. PSYCHIC LEVEL
Curative & Prevention of stress, depression, insomnia
4. ON THE ENERGETIC LEVEL
Activating the individual energy (prana)
Improving its absorption and distribution by the chakras.
Bringing more vitality and wellbeing.
Hormone Yoga Therapy – Uma Yoga the techniques consists of:
a) Dynamic Asana
b) Specific Pranayama to stimulate different glands and circulation.
c) Tibetan Energy Techniques.
d) Bandhas, Mudras
e) Therapeutic Yoga-Nidra
Hormone Yoga Therapy – Uma Yoga, content of the workshop:
About HYT-Uma Yoga / Contra-indications / Basic techniques / Warming-up exercises
Learning Daily Uma Yoga series for women
Endocrine system & Chakras
Practice of the daily series / Adjustment
Life style & Diet